About Us
The Extra Ingredient, independently owned and operated, began in 1985 at Friendly Shopping Center in Greensboro, North Carolina. Established by Art and Martha, The Extra Ingredient has always featured an unbeatable assortment of well-known (and little-known!) brands of kitchen and tabletop items. We strive to provide the best selection, and the best service, any home or professional chef could need. We take pride in offering our customers high-quality kitchen equipment, baking supplies, cutlery, barware, kitchen textiles, electric appliances, gadgets, gourmet foods, whole bean coffee, loose and bagged teas, NC products, and beautiful collections of dishes and metalware for serving and entertaining.
We love our "localness," and appreciate our connection with our community and the citizens of Greensboro and Guilford County. We support our community, and are members of the Triad Local First, Greensboro Chamber of Commerce, Greensboro Merchants Association, and the local Better Business Bureau. We have a dedicated and knowledgeable staff, many of whom have worked with us for a number of years. We treat each other and our customers as we would like to be treated.
Stop by and let us "help you cook up a complete kitchen!"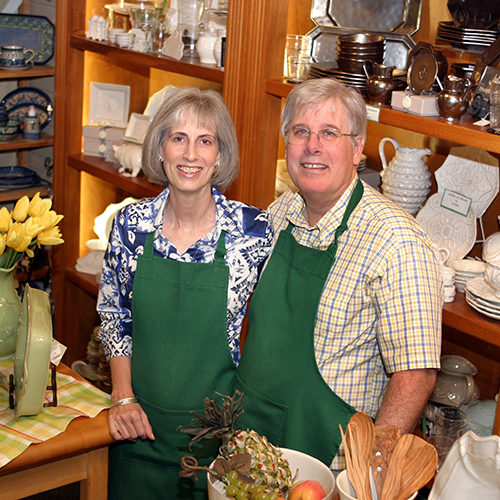 "Through hard work and a commitment to this community, Art and Martha Nading have come to exemplify all the good things about local independently-owned business. We know that they will give us quality products and customer service, of course, and beyond that, the Nadings have had the courage to compete with the big chains and franchises through keeping up with technology, trends, local vendors and more. They have never wavered in their efforts to give the customer a shopping experience second to none."