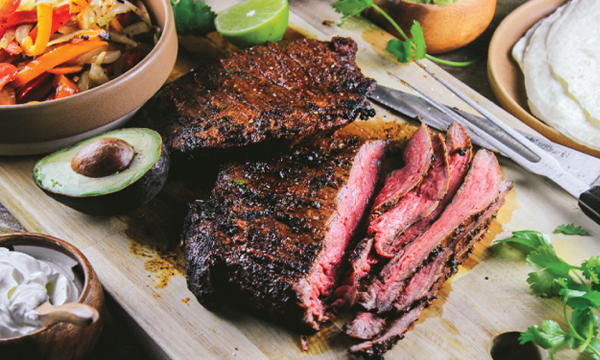 SERVES 6
Flank steak on the grill is always the right answer to "what's for supper?" Our featured marinade adds great flavor to the steak. Simply grill the steak along with some peppers and onions and you'll have the perfect fajita dinner ready to serve! This meal is easy to accomplish with most of the cooking time spent at the grill. PLUS, get our very favorite, classic guacamole recipe to top it all off!
Whisk the marinade ingredients together until combined, then pour over the flank steak. Chill and marinate in a sealed container or bag for 2 hours. Allow the steak to come to room temperature for about 20 minutes prior to grilling.

Prepare the veggies in a large bowl, toss the sliced peppers and onion with the olive oil, Kosher salt, and pepper. Grill the peppers and onion in a grill basket over direct heat or sauté in a skillet on the stovetop. Stir the vegetables often and cook until slightly charred in spots and cooked to your desired tenderness.

Grill the steak! Fire up the grill, preheat the grill to high. Place the steak on the grill, and cook for 3-4 minutes. Flip and cook for another 3-4 minutes. Continue grilling and flipping until the internal temperature reaches 135°F for medium-rare.

Remove the steak from the grill, and let it rest for 10 minutes to let the juices set and reabsorb. Slice the steak against the grain.

Serve the grilled steak and vegetables with warmed tortillas and a variety of your favorite toppings. We recommend topping with our classic guacamole.
Guacamole Directions:
Split, pit, and scoop out the avocados. Using a fork or avocado masher, mash until coarsely mashed.

Add the tomatoes, onion, garlic, jalapeño, cilantro, cumin, and lime juice. Stir until combined.

Season the guacamole with Kosher salt and pepper, to taste. Adjust the amounts of lime juice, cumin, and cilantro according to your preference.
INGREDIENTS
Fajita Ingredients:
1 (2 lbs) flank steak

6-12 large flour tortillas, warmed

3 bell peppers (a mix of red, orange, yellow), sliced into strips

2 sweet onion, sliced pole to pole

2 tablespoons olive oil

1/2 teaspoon Kosher salt

1/2 teaspoon pepper
Marinade Ingredients:
Zest of one lime

1 tablespoon fresh cilantro, minced

1/4 cup fresh lime juice

1/2 cup vegetable oil

1/8 cup soy sauce

1 teaspoon chili powder

1 teaspoon garlic powder

1 teaspoon paprika

1 teaspoon cumin

1 teaspoon dried oregano

1 tablespoon sugar

1 teaspoon pepper

1 teaspoon Kosher salt
Toppings: Guacamole, Sour cream, Cilantro
Guacamole Ingredients:
4 ripe avocados

2 roma tomatoes, diced

1 tablespoon sweet onion, minced

1 clove garlic, minced

1 jalapeño, seeded and finely diced

2 tablespoons fresh cilantro, chopped

1/4 teaspoon cumin

Juice of 2 small limes, more to taste

Kosher s

alt and pepper, to taste