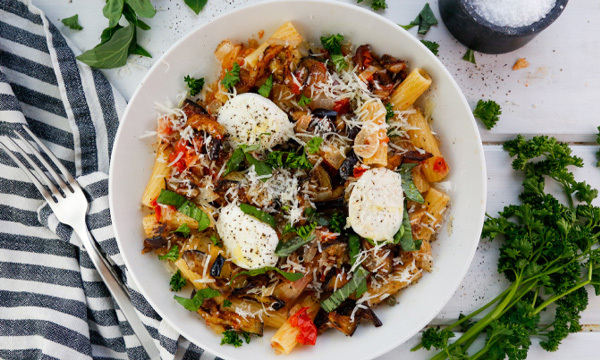 SERVES 6
It's pasta night! Fresh eggplant strips are fried, smothered in a fresh tomato sauce, then paired with hearty rigatoni in this pasta con le melanzane dish. You'll find that it's perfect for cozy dining any day of the week. Bring it all home by topping the pasta with fresh mozzarella, tangy Pecorino Romano, and chopped fresh herbs.
Prepare the eggplant. Wash the eggplant and slice it into rounds about 1/4" thick. In a large bowl, cover the sliced eggplant in water and add 2 tablespoons salt. Press the eggplant down with a heavy bowl so the slices stay under water and soak for 30 minutes. (This salt water soaking process helps extract any bitterness from the eggplant, and renders a creamier texture.) Drain and rinse the eggplant. Pat the eggplant dry in preparation for frying.

While the eggplant is soaking, make the pasta sauce. Squeeze the ripe tomatoes in a large bowl of water to help release and remove their seeds. Finely dice the tomatoes. Heat the olive oil in a large pan and add the sliced garlic. Cook the garlic over medium heat for 2-3 minutes until it becomes fragrant. Add the diced onion and cook for another 4-5 minutes until the pieces begin to soften. Add the crushed, chopped tomatoes, salt, pepper, and crushed red pepper and cook on low for about 20 minutes until the sauce beings to thicken and the flavors become incorporated.

Fry the eggplant. Slice the eggplant rounds into strips and coat the bottom of a large stainless steel pan with half of the vegetable oil. Over medium high heat, heat the oil. Once the oil is hot, working in batches, carefully add the eggplant slices in a single layer in the pan. Once the slices have browned, remove them with tongs and continue with the next batch until all the slices have been fried. Add remaining oil as needed during the frying. Place the fried strips on a paper towel-lined plate to absorb any excess oil. Add the capers to the oil and fry for 2-3 minutes until golden brown. Use a slotted spoon to remove the capers and place them on a paper towel-lined plate to absorb any excess oil.

Cook the pasta in a large pot of boiling, salted water for about 8 minutes, or until al dente. Drain the pasta. Combine the pasta, sauce, fried eggplant, and capers. Toss together to incorporate. Top with Pecorino Romano, mozzarella, parsley and basil and eat while piping hot.
INGREDIENTS
Fried Eggplant Ingredients:
2 large eggplants

2 tablespoons salt

1 cup vegetable oil

1/4 cup capers
Pasta and Toppings Ingredients:
1 lb rigatoni pasta

1/4 cup grated Pecorino Romano

1-3/4 oz fresh mozzarella, sliced

2 tablespoons fresh parsley, chopped

2 tablespoons fresh basil, chiffonade
Tomato Sauce Ingredients:
8 ripe Campari or Roma tomatoes, washed

1/2 cup olive oil

4 cloves garlic, sliced

1 small yellow onion, finely chopped

1/2 teaspoon Kosher salt

1/4 teaspoon freshly cracked pepper

1/4 teaspoon crushed red pepper