Roasted Golden Beet Salad with Grapefruit, Pearl Couscous, Mint and a Honey-Lemon Vinaigrette
RETURN TO RECIPES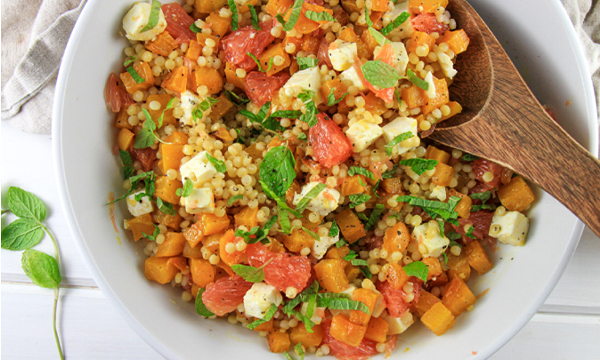 SERVES 4 - 6
Winter citrus season is upon us! Enjoy sectioned grapefruit in this roasted golden beet salad mixed with pearl couscous, feta, and fresh mint leaves. The sweet-tart, honey-lemon vinaigrette ties all of the bright flavors together perfectly.
Preheat the oven to 450°F. Prepare the beets by peeling, then dicing into 1/2-inch cubes. Toss the diced beets with 2 tablespoons olive oil, 1/2 teaspoon Kosher salt, and a healthy grind of pepper. Place the prepared beets in a single layer on a large roasting pan and roast for 15 minutes. Stir and continue roasting the beets for another 10-15 minutes, or until the beets are fork tender.

Meanwhile, prepare the couscous. In a small saucepan, coat the pearl couscous in 1 tablespoon of olive oil and toast until fragrant, about two minutes. Then cook according to the package's instructions.

While the couscous cooks, supreme the grapefruit by cutting away the outer peel of the grapefruit, then cutting each section away from the pith with a sharp paring knife inserted on either side of each section.

Dice the feta into 1/2-inch pieces. Chop the mint leaves into thin strips, or leave whole if the leaves are tiny.

In a small jar, whisk the vinaigrette ingredients together until combined.

Once the beets and couscous are prepared, toss together with the vinaigrette. Carefully mix in the sectioned grapefruit pieces, feta, and garnish with mint.

Serve as a side dish with your desired meat or fish dish.
INGREDIENTS
Salad Ingredients:
3 golden beets, peeled and cut into 1/2-inch cubes

2 tablespoons olive oil

1/2 teaspoon Kosher salt

1/2 teaspoon black pepper

1 cup pearl couscous

1 tablespoon olive oil (for couscous)

1 grapefruit, peeled and supremed to remove pith

10-20 mint leaves, chopped in strips (or if tiny, leave whole)

4 ounces feta, cubed
Honey-Lemon Vinaigrette Dressing Ingredients:
1 zest and juice of one small lemon (about 2 tablespoons of juice)

1 tablespoon honey

3 tablespoons olive oil

Kosher salt, to taste

black pepper, to taste