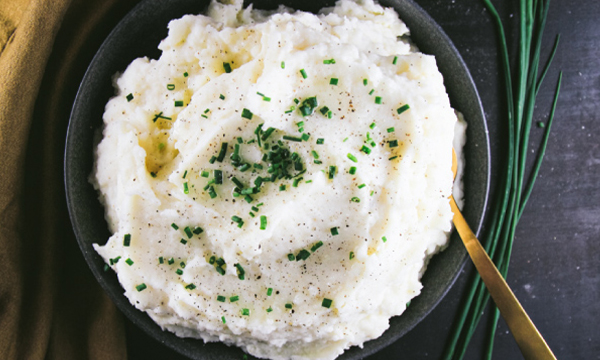 SERVES 6-8
Looking for holiday potatoes with a little something extra? Try our truffled mashed potatoes this season! Subtle truffle flavors marry well with creamy potatoes. The result? An elevated side dish suitable for including on any dinner menu. Sooo delicious!
Put the potatoes into a large pot, add 2 tablespoons of Kosher salt and cover with cold water.

Bring the potatoes to a boil over medium-high heat and cook until the potatoes are fork-tender, or for about 20 minutes.

Mash the potatoes using a potato ricer or a potato masher. Add the butter, and mash. Add the truffle salt, and mix again. Add the half-and-half, and stir until smooth and evenly combined.

Taste the potatoes, then season well with additional Kosher salt and pepper. Add additional truffle salt, per your preference. We tend to season lightly with truffle salt, as the flavor permeates the potatoes and a subtle flavor seems to accent them best.

Garnish the finished potatoes with chopped fresh chives and a swirl of truffle oil, if desired.
INGREDIENTS
4 pounds Russet potatoes, peeled and roughly chopped

2 tablespoons Kosher salt

4 tablespoons butter, brought to room temperature

1 cup half-and-half, brought to room temperature

2-3 teaspoons black truffle salt, season according to tast

Kosher salt and freshly ground black pepper, to taste

Chopped fresh chives, for garnish

Swirl of black truffle oil, for garnish